Restaurants
The hotel has five restaurants,
a bar and a cafe catering to every need for a truly memorable experience,
whether you're spending time with loved ones or relaxing on your own.
The hotel's renowned seasonal fare and exquisite dishes are made by in-house chefs
based on solid respect for culinary traditions.
ANNIVERSARY
Special-occasion Services
Special-occasion services include message plates and photos to ensure a truly memorable anniversary or birthday with loved ones. Cake of various sizes are also available.
Ask staff about services at the time of reservation.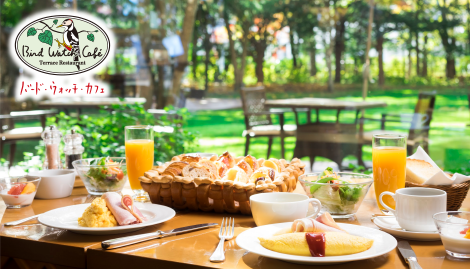 A sun-kissed dining spot
Bird Watch Café
Featuring sweeping views of the hotel's garden, Bird Watch Café and its terrace are characterized by their spaciousness and openness, as well as being sunlit the whole day.
The head chef's creations draw out the purest flavors of fresh, locally sourced seasonal ingredients.
Hours
Breakfast: 7 – 10 a.m.
Note: Hours are subject to seasonal change.
Lunch: 11:30 a.m. – 3 p.m. (last orders: 2:00 p.m.)
Dinner: 5 – 9:30 p.m. (last orders: 9 p.m.)
Lunch

Dinner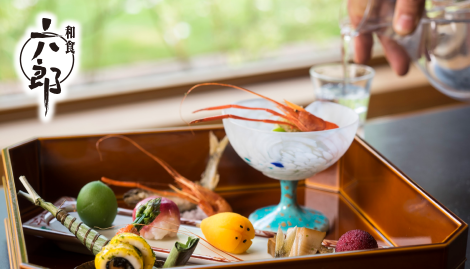 Traditional cuisine made with locally sourced fare
Rokurou Japanese Restaurant
Rokurou serves traditional Japanese cuisine made with fresh seasonal ingredients. It is the ideal choice for relaxed dining with lush garden views.
Sunny private rooms are also available to cater to every need, whether for family dining or business use.
Hours
Lunch: 11:30 a.m. – 3 p.m. (last orders: 2 p.m.)
Dinner: 5 – 9 p.m. (last orders: 8 p.m.)
Lunch

Dinner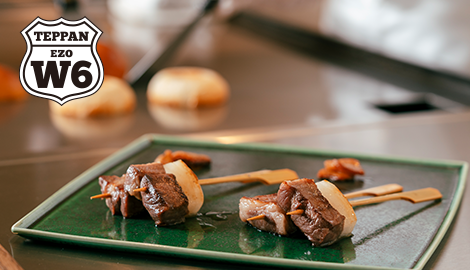 Please enjoy 6 kinds of meat from Hokkaido in a course meal.
W6 Teppanyaki
After enjoying the dynamically finished dishes in front of you, please taste the chef's special dishes that are particular about each ingredient.
Enjoy teppanyaki unique to Hokkaido in a special space.
Hours
Dinner: 6 pm to 9:30 pm (reservation required by 17:00 the day before)
※The maximum number of people that can be reserved is 2 groups per day. (* 1 group up to 4 people)
※Meals start at 18:00 or 20:00.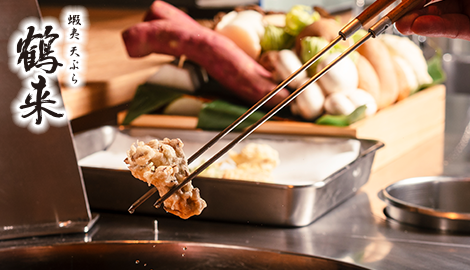 Please enjoy the craftsmanship using carefully selected ingredients from Hokkaido.
Tsurugi Tempura
A special space where you can enjoy seasonal ingredients unique to Hokkaido, carefully selected by craftsmen who cook in front of you.
Enjoy the chewy texture of fried food, the aroma of ingredients, and a special course that envelops everything.
Hours
Dinner: 6 pm to 9 pm (reservations required by 17:00 on the day)
※The maximum number of people that can be booked is 6 people a day.
※Meals start at 18:00 or 19:00.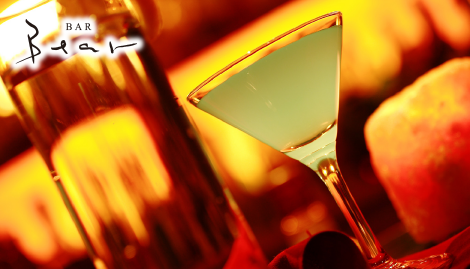 A tranquil locale with a wide selection of fine alcoholic beverages
Bar Bear
The bar's counter is the perfect place to savor cocktails and rare whiskeys in a laid-back atmosphere. The rows of bottles from around the world behind the bar are sure to help make any night special.
| | |
| --- | --- |
| Hours | 5 – 9:30 p.m. (last orders: 9 p.m.) |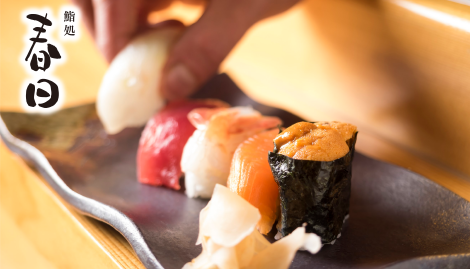 Delicacies from the rich waters of Hokkaido
Kasuga Sushi Counter
The glass showcase on the restaurant's counter houses fresh, uncompromising fare from waters off Hokkaido carefully selected by the head chef.
Sitting at the counter builds a sense of anticipation for the taste sensation that is to come. The chef delightfully cuts and prepares seasonal fish amid the locale's tangy ocean aroma.
Hours
Lunch: 11:30 a.m. – 3 p.m. (last orders: 2 p.m.)
Dinner: 5 – 9 p.m. (last orders: 8 p.m.)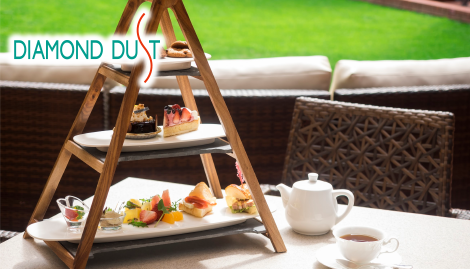 A place of relaxation with wonderful scenic views
Diamond Dust Lounge
The Diamond Dust Lounge provides sweeping seasonal views of the hotel's garden. Add a little decadence to your stay with delicious coffee and cake or a little nighttime tipple.
Hours
10: 00-17: 00 (LO16: 00)
※17: 00-22: 00 This is a lounge exclusively for accommodation.
(From 6:30 am to 9:00 am)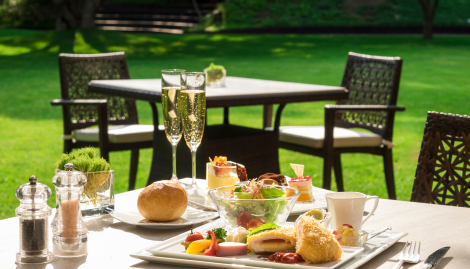 A spot blessed with refreshing breezes amid forest greenery
Garden Terrace
Terrace seats are available during the summer months. Savor fine fare made by our expert chef and relish the free, relaxing atmosphere of the garden.
Hours
Period: May – October
11:30 a.m. – 3 p.m. (last orders: 2:30 p.m.)
Sat., Sun. & nat'l holidays:
11:30 a.m. – 3:30 p.m. (last orders: 3 p.m.);
5 – 9 p.m. (last admittance: 8 p.m.)